NANOdesign Fashion & NanoArt Prints
Fashion design and Prints inspired by images of nanosculptures created by Cris Orfescu by manipulating matter at atomic and molecular scales through chemical reactions and physical processes - new art form, NanoArt
About NANOdesign Studio
NANOdesign Studio was founded by
Cris Orfescu
to replicate patterns and structures from microscopic world in fashion design and daily life products. Orfescu creates and promotes
NanoArt
, a new art discipline involving a 4-step scientific-artistic process: creation of molecular and atomic sculptures through chemical reactions and physical processes (nanosculptures) or discovery of natural molecular and atomic structures with artistic potential (nanolandscapes); visualization of these nanostructures with powerful research tools like scanning electron microscopes; capture of the scientific images; further processing of the scientific images using different artistic techniques to convert them into artworks showcased for large audiences. Orfescu combines the realism of the nanostructures with abstract colors to create unique imagery, bright, bold, sharp, and inventive that fit perfect the modern fabrics and contemporary/luxury fashion.
READ MORE ABOUT NANOART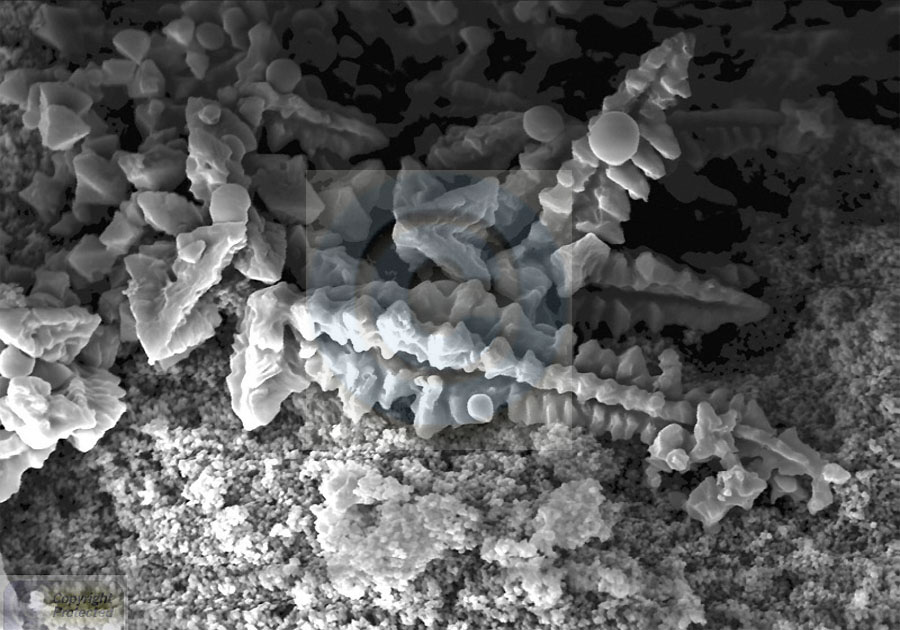 Artist - Designer
Founder of NANOdesign Studio
"NANOdesign is a new discipline at the design-science-technology intersections. Fashionable textiles for Apparel and Home Decor and patterns for Electronic Accessories and Sporting Goods are designed by reproducing structures and patterns from nano world (molecular and atomic landscapes)" (Cris Orfescu). This is a logic result of the emergent multidisciplinary Nanotechnology (molecular manufacturing) which deals with the synthesis, manipulation, and characterization of matter at the sub-100 nanometers level (1 nanometer = 1 billionth of a meter which is about one hundred thousand times smaller than human hair thickness).
"I bring the small world in front of my audience by visualizing with a scanning electron microscope the nanolandscapes and nanosculptures I create by chemical and physical processing. I capture the monochromatic scans in a computer and digitally paint and manipulate these images combining the realism of the scientific imaging with abstract coloring" (Orfescu).
VISIT ARTIST's SITE
NANOdesign Collections
Transparence, NanoHolograms, NanoPalms, Once Upon A Time, There Is Never Too Much Green, Flamingo are the collections available at the moment.
Press

The New York Times

- The Art of Nanotech
"... artists face a fundamental hurdle trying to represent the molecular landscapes of various materials where features are measured in nanometers... For abstractionists like Mr. Orfescu though, such limitations are simply invitations to let color and shape-shifting run wild."

Discovery News

- Extraordinary Beauty of the NanoArt World
"NanoArt is a glimpse into an unbelievably tiny world that only a small number of scientists have viewed. For the average person, the realm of nanotechnology -- that is, structures smaller than a billionth of a meter -- is as remote and inaccessible as the moon. But nanoartist Cris Orfescu wanted to change that. He created the NanoArt Exhibition to share the beauty of the nano-world with those of us living in the macro-world."

The Wall Street Journal
"Artist and scientist Cris Orfescu manipulates chemicals and creates nano-sculptures, which he then blows up into large artworks with a scanning electron microscope."

Associated Press
"Cristian Orfescu of Los Angeles uses an electron microscope to create digital images of nano-structures. Orfescu, who is a scientist by day and nano artist at night, digitally paints the black-and-white images on a computer and then prints them either on canvas or fine art paper with long-lasting inks. Orfescu, who has a background in painting abstract art, has shown his nano artwork at galleries and museums and has sold many pieces to collectors."

Pasadena Star News

- Small wonder Nanotechnology
"Shouting their presence in loud shades of red, blue, and yellow, artist and scientist Cris Orfescu's images look first like abstract pieces. The colorful curves, angular lines, and sudden bursts that command the canvases appear to be the fantastical expression of the artist's whim and creative taste... Orfescu's partner in the exhibit, photographer Rick Chinelli, said "personally, I think that Cris works on another level, both physically and mentally."

Stuff Magazine, France

- Arts Pioneers
"Cris Orfescu lives in a fun universe populated by phantasmagoric creatures which one would say come from another planet... In his studio-lab he is having a good time sculpting the imperceptible."

Alchemical City

- Severin's Choice: Cris Orfescu
"Cris Orfescu is one of the most actual artists, a child of our time, a post-literary epoch, when we experiment the co-existence, even merging of fields heretofore exhibiting autonomous profiles in time: that is, philosophy, art, and science/technology... Every solo show by Cris Orfescu is a cutting-edge show of post-literature (I also named it, Leonardo's paradigm), a true memento of our epoch, where philosophy, art and science/technology (nanotechnology) are intermingled. Modulations of dynamic forms, vital intensity of radiant, bright, and expressive colors, structured by a wild harmony of the invisible world, are all subordinated to a secret music of spheres. In all his assertions, Cris is convinced that the old language of art is no longer adequate for the human actual consciousness. Cris Orfescu is a Fauvist of the micro-universes."

Contact NANOdesign Studio
Subscribe to be the first to view the new designs by NANOdesign Studio